Top Mercedes Benz Fragrances Haul 2019
Mercedes-Benz Intense(2013)
Mercedes Benz Fragrances the first one called Intense. The opening has Italian Bergamot in it. Mixed and blended well is a lemony violet absolute orange opening. Quite Pleasing to my senses. Then the heart has bourbon pepper, and a molecule called cascalone which is a pleasant mandarin leaf white pepper rose. Wow. Finishes with more ambrox, Woods and Cedars, Vetiver and Spicy patchouli and a bunch of Synthetics.
This is an eau de toilette. They also make a Parfum. Called Le Parfum. I didn't get it.
This has a lot of Character. Suited for 25 to 40 year old males.
Some some say it smells like fuel. But actually its a sweet violet absolute with vetiver. Kind of like a Fahrenheit Aqua. Ort Bottega Venetta Mens.
The Dry Down is the best part of this fragrance.
Take Fahrenheit subtract the Leather add the vetiver and Violet absolute and some synthetics and there you have it. A cheaper version of the Dior Fahrenheit.
Great Longevity and Compliments and Value vs Juice Performance. About $35 for a 120ml bottle. WOW. Cool.
Personally I don't wear stuff like this because Im a picky fragrance snob.
Mercedes-Benz Club(2013) why do they keep making?
Oh YEAH! BEST ONE. An Oliver Cresp Creation. Top notes are Citruses, and rhubarb ( which is a soapy like spice. Kind of Grapefruit meets a Strawberry and has a cucumber lemon).
Than its a bright bitter green piney gin scent from the juniper berries.
Cardamon which is like a sweet nutty scent. Mildly spicy.
Finishes with Patchouli, Woods, Tonka Bean and Ambrox. Which equals a MUSKY elegant scent when all those are mixed together you will get kind of a hint just a hint of a Cherry Vanilla, dark honey scent.
An excellent fragrance to my nose a bit sweet and elegant.
Some of the notes resemble Polo Red with spicy peppers and pink peppers. The Rhubarb really makes it unique. This really lasts a long time and gets you tons for the women looking at you.
The bottle is cool and sexy as it comes in this fit velour bag.
Longevity Excellent
Compliments Gets you Noticed
Great Fragrance For the Price. Kind of Polo Reddish
Great for Office or Even Clubbing Scene Easily transforms and versaitle.
Projection is not that good however.
.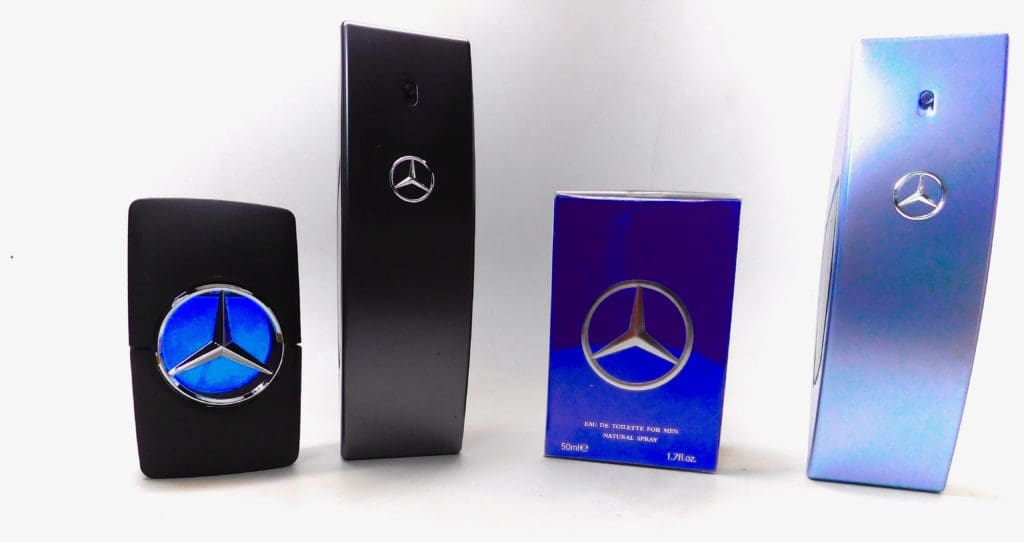 Mercedes-Benz Club Extreme (2016) Geesh
Bergamot, Mandarin, and Lotus Flower, warm flavors of Amber and leather and sandalwood in the base. The base contributes to the intensity and depth thanks to the patchouli and dry wood and musk dry down just like its predesscor. This bottle has been created in a bluish shades of metal grey.
Again as usual Superior Longevity
Prices have dropped right around $35 Quid
Reminds Me of Angel by Thierry Mugler
The single strongest note is the Patch. However altogether its the beautiful toffee/Caramle both pleasing and renders tons for the long legs compliments getter.
Leather Patch berg amber
Just for a second you get the pleasant Citrus beginning which the sales clerks love that makes them sell this faster mass appealing and than the magical long lasting lovely sweet scent of the soft leather accord like suede not leather.
Very pleasant oriental woody composition that is like a combination of Mercedes Benz intense Meets Benz Club.
Sits on the skin pleasantly and its well put together. Stronger than the other one, but still a fresh great fragrance if you give it a chance you will love this I approve this for mass appeal and Blind Buy Worthy. Greatest selection and Projection is good too.
WOW
Mercedes-Benz Club Fresh
If you do not enjoy the intense extreme scents like I do such as the Benz club extreme. Awesome. Than Benzos made this Fresh aimed at those who prefer a lighter and crisper refreshing fragrance. Both are designed by Olivier Cresp. A light more luminous and refreshing composition which is characterized by aromatic notes.
Starting with a Fresh juicy Note of Green Apple, bergamots and pear. Surrounding chords of lavender and sage. And of course the ambrox musk woodsy are. Cool metals shield type bottle.
This is a fragrance you would wear on a cloudless blue sky with a whisper of white in the air. Its no wear near as Long lasting as the Extreme, however those who do not enjoy such powerful fragrances would enjoy this at 3 to 5 hours longevity.
Great for Spring Summer. Easy To wear. Simple Design. Great For Blind Buy. But Just an overall average in scent fragrance. Why did they bother with this is what I want to know. Mercedes c 200 class fragrances
Mercedes-Benz Man
Cool rubber bottle design
Top notes is a pear and ambrett musk geranium. Its kind of like pears, tobacco and red florals with a soft rosewood finish. Kind of Cool Uniqness.
You got this Mont Blanc Legend Vibe Going on.
Maculine and classy with a a little spice and a hint of fruit but not sweet.
The first thirty minutes is the best part for this fresh lemony scent making you feel expensive and elegant with the super cool bottle design. Dries down too a sweet incense.