Top 15 Cheap Womens Summer Fragrances 2018
Burberry Body(2011)

Released in 150 countries all over the world. A luxury Chypre. A citrus perfume derived from animal oak moss base.
Absinthe, peach, roses, iris. In the base we have Sandalwood, cashmere Musk, amber and MMM…Vanilla. My Fave.  One of my all time favorites ever made.
Body. Flowery, Sweet, yet sophisticated soft scent, With Peaches and savory notes..MMMM..Delicious. I Rate it a #9!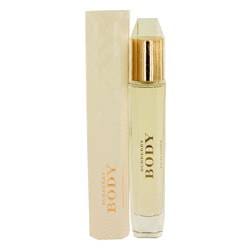 2). Daisy Dream By Marc Jacobs(2014)
Do you remember Daisy from 2007? Well this is the Daisy Dream much more sophisticate.  Blackberry, Pears, Blue Wisteria, Jasmine and Coconut Water.  Pretty, Fresh, Sweet, Sexy, Great All day everyday scent and super easy to wear.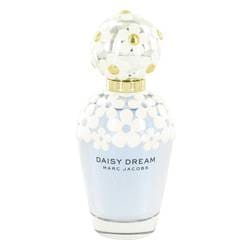 3) Viktor Rolf Bon Bon(2014)
Sweet, sexy and Long Lasting.  Shaped as a wrapped Candy.  The Key note is Caramel surrounded by Mandarin, Orange, Peach,  Jasmine, Cedar woods and Amber.
Extreme Longevity.  Vials found very cheap.
Sweet Caramel, Juicy Peach, Creamy Ambers, bold yet soft and Beautiful andwrraps you in luxury. Moderate Longeviy.
4) Viva La Juicy Couture Gold Couture(2014)
Viva la juicy gold couture was introduced in 2014 by the designers of juicy couture . The sweet scents of honeysuckle and jasmine sambac, combined with the smooth scent of sandalwood and the light infusion of amber, create a fragrance that lingers pleasantly long after you have left the room. Every woman deserves a fragrance that showcases her unique personality
Vanilla caramel gourmand, golden composition. With Sandalwood , it projects well and lingers long after you've left the room.
Price in the Department stores is $106.
Found on the Internet for Under $40.
Yes You can Order from BestBrandsPerfume.com Now this item for Under $40!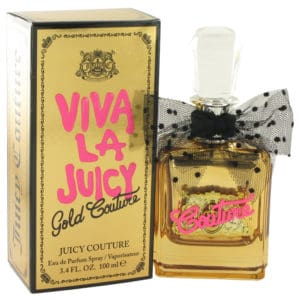 5). Salvatore Ferragamo Incanto Heaven (2007)
Fresh Grapefruit with Florals, Jasmines, Apples, Peony, a touch of apricot, Base Is Irish Root, violets and Musk. I just love this easy to wear fragrance and the cool shaped bottle with the pink designs on it.  Very Easy to wear. Sexy. Fun and flirtatious, wow such an under rated fragrance for the money this is great. Fabulous.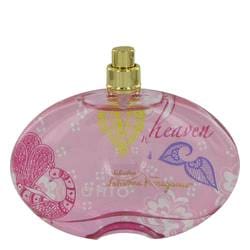 6) Ed Hardy Hearts & Daggers(2009)
With top notes of blood orange, violet leafs and gala apples, middle notes of Mango, Apple Blossoms, and Pink Jasmines. YES!…MMM HUH! Dries down to a cashmere musk amber Tonks bean with blonde woods.  A Light Fruity apple scent. Tropical Fruits done right not like over bearing like those Escadas that came out every year, remember all those>>??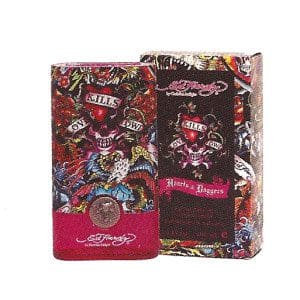 Its still young for 16 years old to 46 Years old not a problem. Cmon moms!
7) Simply Pink by Aquolina(2013)
Sweet, Fizzy, Makes you smile, mood enhancer. This one opens up with a bright bergamot and juicy wet wild strawberries.  Than a ouch of spices by way of Almonds and green notes like limes.   Mmm, doesn't that sound delicious? Gosh mouth watering.  Very Sparkly feeling while wearing this, of course the white florals will calm it down a bit.  Along with the Jasmine.  Than it rounds off to a mini gourmand with notes of Vanilla, Licorice and pink Pralines and a touch more of Raspberry and Strawberries! WOW!  Moderate longevity and projection
For mathamatics, you take the regular pink sugar, and calm it down on the intoxicating cloying sweets and whats left is this beauty simply Pink.   Baked Sugar Cookies.  The pralines replace the caramels from the original Pink Sugar.  Instead of the Cotton Candy Smell you get this Fruiter scent. Great! Love it!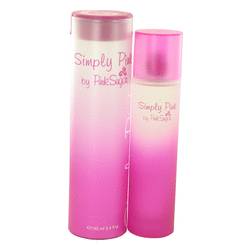 8). Rogue Love By Rihanna(2014)
  You will fall in "Love" with this Rogue Love by Ri Ri.  With Citruses, peaches, jasmines, Soft Sensual vanilla ambers, creamy wood notes and even a touch just a touch of caramel.  Orchids and Coconut in this are there but not prevalent.  This is a WEAK scent for longevity but it smell great, its not bad to have a weak scent sometimes you just want to smell good and not for a long time or just for one outing like a lunch and than you can apply something different on you later. Its quite fun to wear more than one brand on a day and make it work, so when I hear that a fragrance is weak, you can look at some of these more expensive SNOB brands which I wont mention, but cost upwards of $60 to $200 and last just as long as this, but they do smell awesome. Again for the money this is great.  A lovely scent of caramel, peach, coconut, vanilla.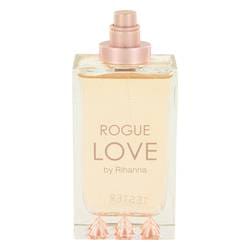 9). Couture La La (2012 )
This is a cheap Juicy Couture, you can find these large bottles all over Ebay for $25. And its luscious and fruity with flors in the background.  Green apple and red currant which is a sweet red berry like a gooseberry family.  Mandarin Green apples and white floral with orange blossoms and powdery violets a nice girly fragrance, very light and stays fresh…mmmm. Fresh juicy fruits and a light a light touch of musk.
10) Jimmy Choo Blossom(2015)
Remember Jimmy Choo Flash, this has the same look but its different.  Flash came out in 2013.  This bottle is identical but pink.  Raspberries with a gentle floral heart. White Musks, Sandalwoods and even sweet peas.  This can be found under $40.  Fantastic Longevity for such a light fragrance up to six hours.  Sweet Raspberries and Sweets mixed with florals. Makes you feel happy inside and smiling, It has a touch, just a touch of citrus to give it that oomph I love, very girly and fun.
11) Sofia Verfara Love (2014) A warm, fruity, oriental mandarin, passion fruit, green apple , orange and than some delicious columbian coffee notes to put that hint of OOMPH in it.  Purple Orchids, Orris Roots and magnolia.
Has a base of Ambrette Seed WHICH IS LIKE A musky, leathery note.  Than amber woods, and praline and vanilla.  Creamy longest lasting perfume.  Subtle hints of Raspberry in it too, with that touch of coffee makes it like Black Opium but without the YSL crazy prices.! GREAT VALUE FOR Juice, just FINE
The bottle is so nice and looks so expensive as well.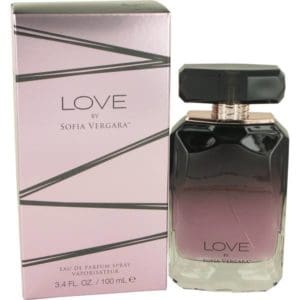 12). Guess Girl Belle Flanker of 2012's Guess Girl. Think about berries and fruits dipped in Champagne. Arab Jasmines and peony.  Sandalwoods and vanillas. Very Fruity and girl, it give you that you feeling but sophisticated, Great prices all over the net.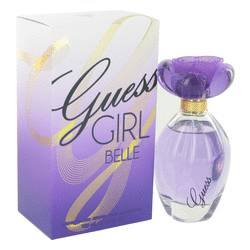 13). Burberry Summer (2013) If you could find the older one from 2006 or so its better.   A well blended citrus fragrance with pomegranate which adds to its freshness.  The heart is a sea of flowers with Lilly of the valley and roses.  It Finishes off with warm ambers and musk.  You will at first smell the sent of Skittles or Starbursts, right off the bat.  Than you will have the florals kick in with just a touch a touch of spice.  Slight oriental.  Kind of like FLO-RIENT-TALS.  HA.  Its cheap and easy to wear but the longevity sucks and needs work, but who really wants a long lasting summer fragrance all the time.  All in all it is a flirty fun sexy fragrance.   Found all over for thirty dollars.
14). Very Sexy BombShell (2010) Purple Passion Fruit, Shangri-La Peony.  Vanilla Orchids, I picture just these sexy bombshell women with attitudes wearing this. This is the vibe I get.  Women with attitudes who require attention and Im here to give them all the attention they need.   Have you ever smelled Gucci Rush 1 for women? Sort of Just Sort of like that.  Fresh but feminine, I also love many other VS fragrances, they are sexy, and legit, very well made scent structures that smell damn good, but they do not last long. But that is ok. They get the awards for some of the finest smelling all around mass appealing womens fragrances. Just like some of the Niche brands that costs upwards of one hundred dollars or two, they smell awesome like aqua di parma, so good, but not the best longevity. Sometimes in life you take the good with the bad.  I take this.
15). Bvlgari Omnia Crystaline have you ever touched those delicate white flower petals like on an orchid or some other exotic floral species, well this is like that a delicate  white floral.  Airy fresh bamboos and Asian fruit Nash which brings it its specific and very very unique scent.  You may or may not like this, Ive had some women tell me OH. MM. G. And others say …hmph.  So its like 7 to 3 who love it and the other three hated it.  Some find it too soft. I thought it was just pleasant and unique.  It also has some apples and pears and woods in it for that specific freshness.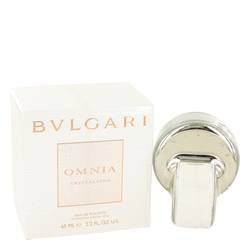 16) Honerable mention to Britney Spears Fantasy. I mean does not everyone have this item?  It is so so good, so so cheap, and lasts so so long, yes you've smelled it a thousand times, but still its hell a good. Spray it on your clothes and it will last even longer than the ten hours it already lasts. LOL…mmmmm YES she did it again.
Get Discounts & Videos
Join our mailing list to receive the latest news and updates from our team.